So I've basically lost my voice from screaming because Bakerella — THE BAKERELLA — commented on my blog.  As if I couldn't love her more, she actually read my post and…her favorite color is turquoise.
Now that Danielle and I are all Hollywood and are basically just waiting for an invitation to bake with her, I decided to take a baby step toward cake pops and to bake some cupcakes on my own. If you're training for a marathon, you build up to it.  Are you in fifth grade and would you like to read about baking? If so, this is the site for you!
The challenge: Double-Maple Cupcakes from Cooking Light. Except that I made them single-maple because I wanted to use buttercream frosting. I was first introduced to these cupcakes by my friend Christine, who is appropriately Canadian, and who baked them and brought them to work. They were the most fabulous cupcakes I had ever tasted, and I wanted to eat all 18 of them but had to just smile politely as co-workers passed them around and helped themselves to what could have been added to my portion.
Here is what I learned from this baking experience:
1. If you put a several cups of flour in the bowl of your KitchenAid mixer that you have used twice since you purchased it, and then turn the dial to High, you will distribute flour all over yourself and the kitchen. I also used a dough paddle which may have been wrong.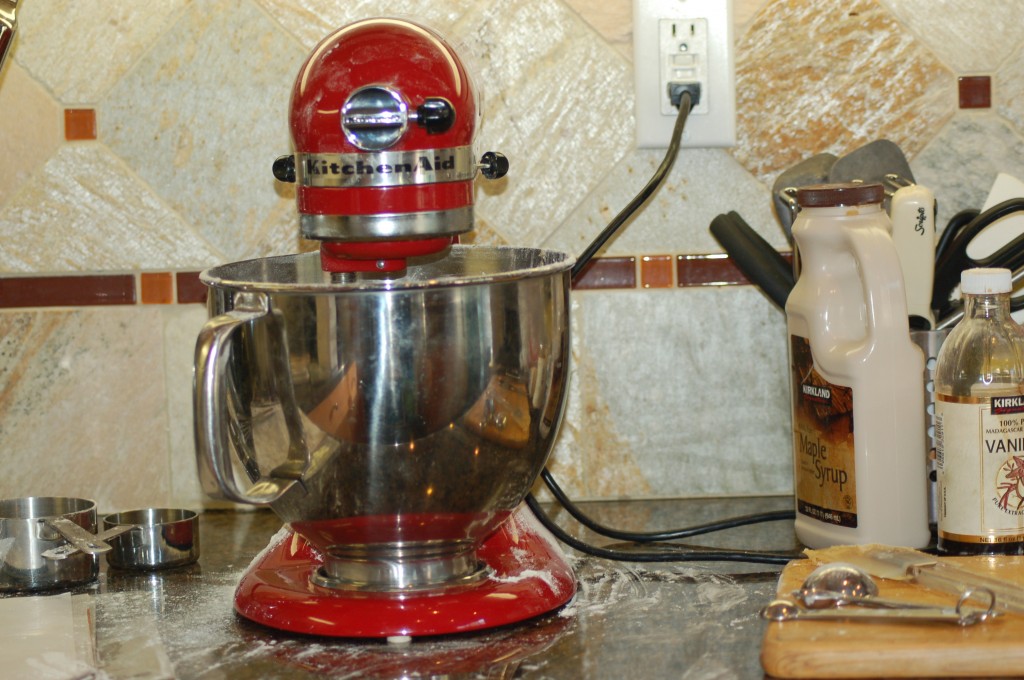 2. After you have done 1, you may no longer have the correct proportions of ingredients in your batter, and sometimes when this happens, your cupcake may actually throw up.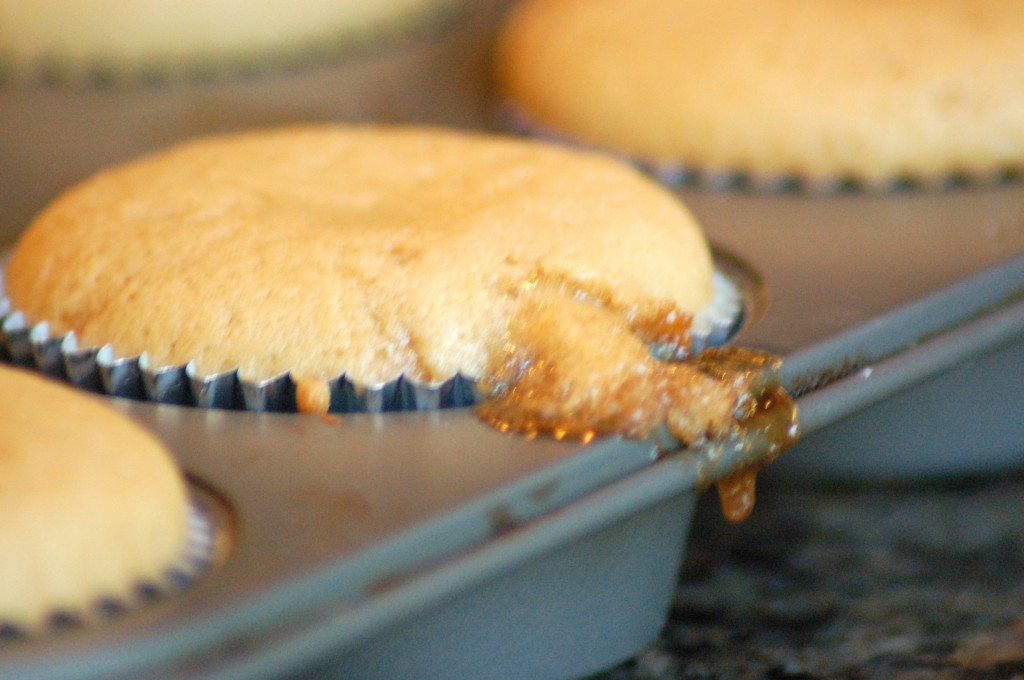 Overall, though, most of the cupcakes that were not unwell turned out pretty normal looking.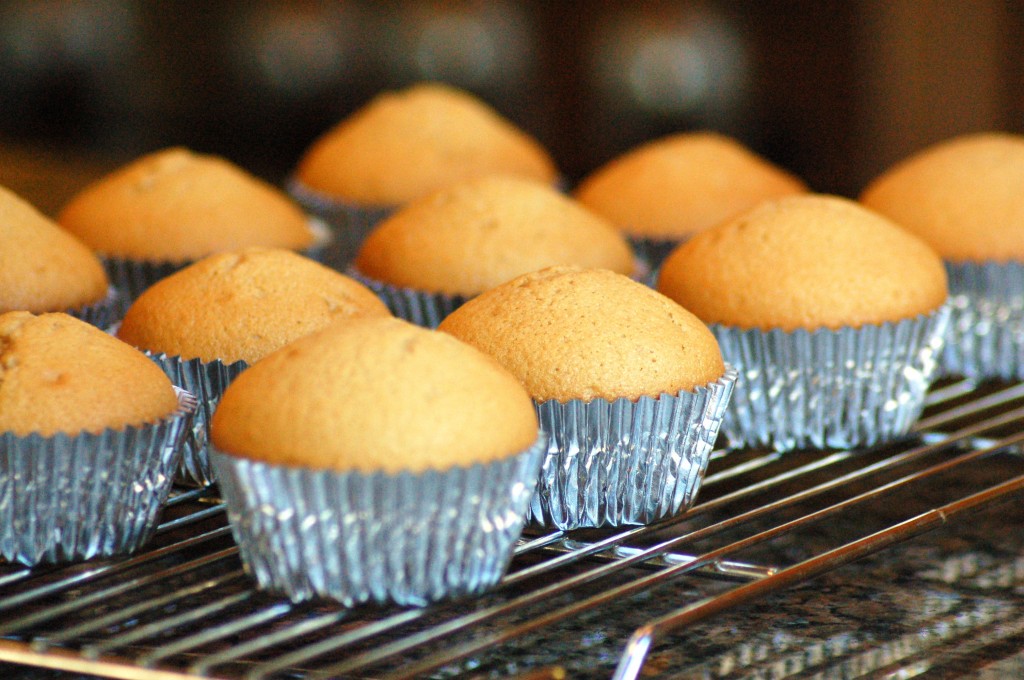 And they frosted up nicely.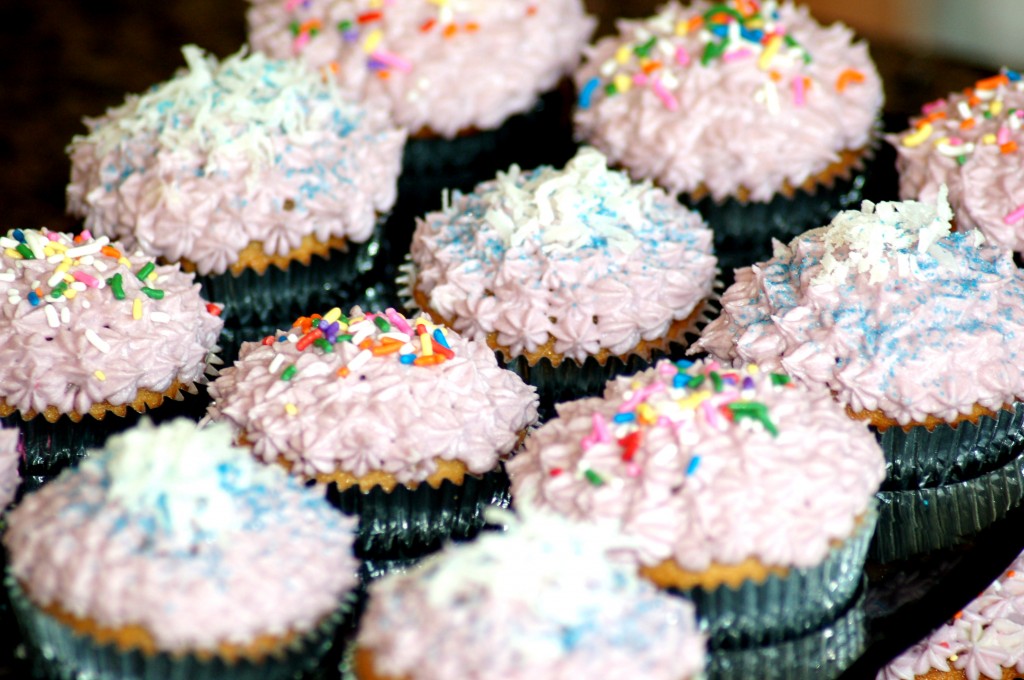 So if you want to try this at home, here are the recipes (with instructions on how to make barfing cupcakes above):
DOUBLE-MAPLE CUPCAKES from Cooking Light:
Ingredients
1/2 cup granulated sugar
5 tablespoons butter or stick margarine, softened
1 teaspoon vanilla extract
1/2 teaspoon imitation maple flavoring
2 large eggs
1 1/4 cups all-purpose flour
1 1/4 teaspoons baking powder
1/4 teaspoon salt
1/4 cup 1% low-fat milk
1/4 cup maple syrup
Frosting:
3 tablespoons maple syrup
2 tablespoons butter or stick margarine, softened
1/2 teaspoon vanilla extract
1/2 teaspoon imitation maple flavoring
1/8 teaspoon salt
1 3/4 cups powdered sugar
Preparation
Preheat oven to 350°.
To prepare cupcakes, beat first 4 ingredients at medium speed of a mixer until well-blended (about 5 minutes). Add eggs, 1 at a time, beating well after each addition. Lightly spoon flour into dry measuring cups; level with a knife. Combine flour, baking powder, and 1/4 teaspoon salt in a bowl, stirring well with a whisk. Combine milk and 1/4 cup maple syrup. Add flour mixture to sugar mixture alternately with milk mixture, beginning and ending with flour mixture; mix after each addition.
Spoon batter into 12 muffin cups lined with paper liners. Bake at 350° for 20 minutes or until a wooden pick inserted in center comes out clean. Cool in pan 10 minutes on a wire rack; remove from pan. Cool completely on wire rack.
Ingredients
1 cup unsalted butter (2 sticks or 1/2 pound), softened (but not melted!) Ideal texture should be like ice cream.
3-4 cups confectioners (powdered) sugar, SIFTED
1/4 teaspoon table salt
1 tablespoon vanilla extract
up to 4 tablespoons milk or heavy cream
Preparation
Beat butter for a few minutes with a mixer with the paddle attachment on medium speed. Add 3 cups of powdered sugar and turn your mixer on the lowest speed (so the sugar doesn't blow everywhere) until the sugar has been incorporated with the butter. Increase mixer speed to medium and add vanilla extract, salt, and 2 tablespoons of milk/cream and beat for 3 minutes. If your frosting needs a more stiff consistency, add remaining sugar. If your frosting needs to be thinned out, add remaining milk 1 tablespoons at a time.